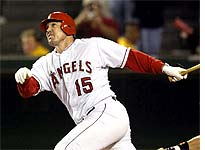 On October 1, 2006, in front of a record crowd at Angels Stadium in Anaheim, Tim Salmon played his final game. A few days after announcing he would retire at the conclusion of the season, Salmon, who spent all of his 15 years in the majors with the Angels, went 0-for-4 with a walk in an 11-10 loss to the A's.
Related Content
This day in baseball history
February 27
1989

On February 27, 1989, Washington State first baseman John Ol ...

1973

On February 27, 1973, Chicago White Sox first baseman Dick A ...

1970

On February 27, 1970, a threat to Chicago Cubs great Ernie B ...
More Baseball History
Tagged:
Login
or
register
to post comments