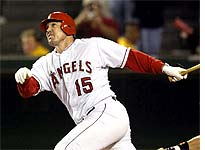 On October 1, 2006, in front of a record crowd at Angels Stadium in Anaheim, Tim Salmon played his final game. A few days after announcing he would retire at the conclusion of the season, Salmon, who spent all of his 15 years in the majors with the Angels, went 0-for-4 with a walk in an 11-10 loss to the A's.
Related Content
This day in baseball history
October 24
1996

On October 24, 1996, the New York Yankees defeat the Atlanta ...

1992

On October 24, 1992, the Toronto Blue Jays become the first ...

1972

On October 24, 1972, Hall of Famer Jackie Robinson dies from ...
More Baseball History
Tagged:
Login
or
register
to post comments