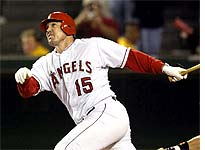 On October 1, 2006, in front of a record crowd at Angels Stadium in Anaheim, Tim Salmon played his final game. A few days after announcing he would retire at the conclusion of the season, Salmon, who spent all of his 15 years in the majors with the Angels, went 0-for-4 with a walk in an 11-10 loss to the A's.
Related Content
This day in baseball history
August 28
1996

On August 28, 1996, the Atlanta Braves acquire 14-game winne ...

1990

On August 28, 1990, Ryne Sandberg of the Chicago Cubs become ...

1977

On August 28, 1977, Steve Garvey of the Los Angeles Dodgers ...
More Baseball History
Tagged:
Login
or
register
to post comments