Change Is Good
Did you know that Eric Stoltz was originally cast as Marty McFly in "Back To The Future"? Michael J Fox was
strongly considered but he was contractually obligated to "Family Ties". However after a month of shooting,
the director, Robert Zemeckis, felt that Stoltz's portrayal was "humorless and dramatic". By this time
Michael J Fox was available so they reshot the movie. Another domino to fall was the role of Jennifer Parker,
McFly's girlfriend. Melora Hardin, of Office fame, played the secondary role in the Stoltz version. However,
the director felt that she was too tall to act alongside Michael J Fox , so Hardin was replaced by Claudia Wells.
After all those changes, they created one of my favorite movies ever. Let's not forget that Elisabeth Shue
took over the Jennifer role for the sequel, which I also love. They even had to reshoot the last scene in the
first movie with her in it because it's the first scene in the second movie.
(Thank god for time machines making my girlfriend hotter)
Sometimes a change is what is needed to make a masterpiece. That goes for not just the movie, but the
actor. Harrison Ford would still have been a good actor, but what would we think of his career if Pacino
didn't turn down Han Solo, and if Tom Selleck was available to be Indiana Jones?
(Say 'ello to my laser blaster)
The same goes for baseball. Think back to some of the recent trade deadline deals that carried a team to the
playoffs. Carlos Beltran to the Astros and C.C. Sabbathia to the Brewers were huge deals and they carried
their team into the playoffs. Those particular deals didn't lead to the World Series, but the teams wouldn't
have made it far without those deals. Same goes for Cliff Lee and the Rangers.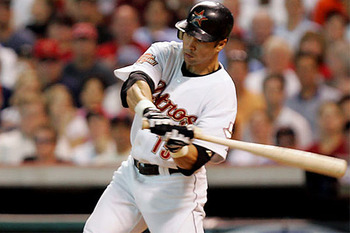 Sometimes there are deals that pay off. I remember in 04 I was working at a restaurant in Boston. I broke
the news to everyone that Nomar Garciaparra got traded. I literally saw people cry. Everyone was upset.
I was thrilled. They were all fans of the team but not fans of baseball. They didn't know who Orlando
Cabrera was, he was playing in Montreal, how would they? Doug Mientkiewicz? Although he was in the
opposing locker room that day, the name didn't resonate with them. And most of them still can't tell you
much about Dave Roberts besides the steal. I tried to explain to them that the Sox were getting a slick fielding shortstop, a glove man at first and a speed demon. No one cared, they loved Nomar. With an infield
containing Millar, Bellhorn, and Nomar, the team needed people that could flash leather. And besides Damon,
the Sox didn't have threat on the bases. These types of deals put teams over the top.
(It's all because I didn't tug on my batting gloves enough)
So I've broken down who I think is the biggest difference maker available at each position, and who the best
bargain is. For the sake of the argument, I've decided that the Twins aren't sellers, and neither are the
Blue Jays who have won 8 of their last 10. The best bargain is based on what the team would have to give
up, not what the player makes, although that factors into what the team has to give up. I included "Need"
as being a move that might be an upgrade for a team.
C
Best Player: Geovany Soto – Cubs
Best Bargain: Miguel Olivo – Mariners
Need: Giants, Red Sox
1B
Best Player: Carlos Pena
Best Bargain: Derrick Lee
Need; Rays, Diamondback, Pirates
2B
Best Player: Orlando Hudson
Best Bargain: Jeff Baker
Need: Giants
SS – I consider Reyes not getting traded
Best Player: Rafael Furcal
Best Bargain: Emilio Bonifacio
Need: Giants, Diamondback, Pirates, Brewers, Red Sox
3B
Best Player: Aramis Ramirez
Best Bargain: Mark Reynolds
Need: Pirates, Brewers
IF
Best Player: Mike Aviles
Best Bargain: Juan Uribe
Need: Giants
UTIL
Best Player & Best Bargain :Ty Wiggington
Need: Angels, Twins, Indians, Yankees
LF
Best Player: Carlos Lee
Best Bargain: Ryan Ludwick
Need: Indians, Rays
CF
Best Player: Melky Cabrera
Best Bargain: Ryan Sweeney
Need: Brewers, Braves, Rangers, Indians
RF
Best Player: Hunter Pence & Carlos Beltran – Mets
Best Bargain: David DeJesus
Need: Red Sox, Phillies, Indians
SP
Best Player: Ubaldo Jimenez
Best Bargain: Jeremy Guthrie
Need: Everyone, but mostly the Yankees and Red Sox
RP
Best Player: Heath Bell
Best Bargain: Tyler Clippard
Need: Diamondback, Phillies, Blue Jays, Yankees
After all of that, at least one of these players will bring a team on a journey that their fans will find
historic and where they're going, they don't need roads.
Images courtesy of:
http://mlblogscordaro9418.files.wordpress.com/2011/07/nomar-throwback-home.jpg
http://www.gonemovies.com/WWW/Pictures/Pictures/BackFuture59.jpg
http://www.toptenz.net/10-actors-who-passed-on-movie-roles.php
http://upload.wikimedia.org/wikipedia/en/3/3e/Jennifer1%262.png
By
Mike Lavery
Friday, 22 Jul 2011
This day in baseball history
July 07
1991

On July 7, 1991, American League umpire Steve Palermo is sho ...

1971

On July 7, 1971, Commissioner Bowie Kuhn announces that Negr ...

1964

On July 7, 1964, the National League defeats the American Le ...
More Baseball History
Tagged:

Aramis Ramirez, Arizona Diamondbacks, Atlanta Braves, Baltimore Orioles, C.C. Sabbathia, Carlos Beltran, Carlos Lee, Carlos Pena, Chicago Cubs, Cleveland Indians, Cliff Lee, Colorado Rockies, Dave Roberts, Derrick Lee, Doug Mientkiewicz, Emilio Bonifacio, Florida Marlins, Geovany Soto, Heath Bell, Houston Astros, Hunter Pence, Jeff Baker, Jeremy Guthrie, Johnny Damon, Juan Uribe, Kansas City Royals, Kevin Millar, Los Angeles Angels, Los Angeles Dodgers, Mark Bellhorn, Mark Reynolds, Melky Cabrera, Miguel Olivo, Mike Aviles, Milwaukee Brewers, Minnesota Twins, New York Mets, New York Yankees, Nomar Garciaparra, Oakland Athletics, Orlando Cabrera, Orlando Hudson, Philadelphia Phillies, Pittsburgh Pirates, Rafael Furcal, Red Sox, Ryan Ludwick, Ryan Sweeney, San Diego Padres, San Francisco Giants, Seattle Mariners, Tampa Bay Rays, Texas Rangers, Toronto Blue Jays, Ty Wiggington, Tyler Clippard, Ubaldo Jimenez
Login
or
register
to post comments