The Death of the DH
This article could go in depth about how I feel about the DH being in baseball at all, but I'll spare you of my ramblings. This is more about how the DH is misused by teams across the American League.
AL teams, at the moment, are using valuable roster spots and salary on a players who can't play the field. Right now only 3 DHs are hitting .300 or over, Michael Young (.333), Victor Martinez (.322), and David Ortiz (.300). Only one DH has over 14 HRs, Ortiz (24).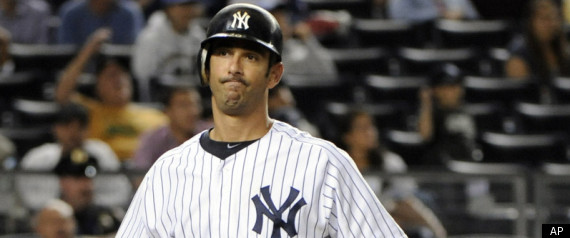 Some teams use the DH to roster a veteran in his last couple years, for example, Posada, Damon, and Matsui. Is the declining veteran really worth the money or the roster spot?
Jorge Posada is making $13.1M this season; he's batting .237, with 10 HR, and 37 RBI. Adam Dunn is in the 1st year of a 4-year $56M contract, he is hitting .161 with 11 HR and 40 RBI. I bet you both teams would love to be out of these contracts right now.
The Rangers are using the DH role properly and I feel that other teams should mimic how they utilize the position. Michael Young is hitting .333 with 10 HR and 80 RBI. There is one factor that makes Young a more valuable player than the other DHs, it's his versatility. Young can play 2nd, 3rd, and SS. The Tigers have a similar situation with Martinez who can backup C and 1b. The fact that these players can also backup other positions saves the team a roster spot.
Even teams with DH's hitting well have to decide what direction to go in. Ortiz is a free agent after this season. He's making 12.5M this year and is it worth paying someone that much to not play the field? I say no.
Let's use the Red Sox next year as an example. If the Red Sox let Ortiz walk, they can play Youklis or Lowrie at DH, the other is the starting 3rd baseman. Once a week, each starting fielder can get a day off the field and play DH. Lowrie can play 2nd, 3rd, and SS. Youkilis can play 1st and 3rd. This will generally keep your players a little fresher and slightly less injured. The wear and tear that Youkilis gets at 3rd base will be lightened. Imagine what the Sox could do with that extra $12M next year - They could get an all-star caliber RF or SS. - They could also use that money to sign a starting pitcher, or completely rebuild their bullpen.
I'm not saying to not make Ortiz an offer, but there is a price. If he's willing to sign for 3 or 4 million dollars, that might be worth that price. There are some players, like Ortiz, whose talent exceeds these rules, but shouldn't be at a high price. With roster space so scarce, I believe that a much cheaper, solid hitting, utility player, like Ty Wigginton, is more valuable than a guy who can only hit, like Vladimir Guerrero. Instead of rostering a bat, a team could roster another pitcher or position player.
With salaries so large across baseball, I believe it won't be long before teams utilize this strategy to take better care of their investments by giving them days off in the field more often. If not, teams someone should offer me a job in their front office.
A note to Ty Wigginton's agent: If you want to thank me by sending me a gift, please comment below. I do accept backstage Nicki Minaj passes.
By
Mike Lavery
Monday, 15 Aug 2011
Tagged:
Login
or
register
to post comments