Just Manny Ruining his Legacy.
Wiki
Manny Ramirez
Just Manny Ruining his Legacy.
Just Manny being Manny...Once a fun-loving idiot savant, now just an idiot
Let's take a trip back, to December 19, 2000 – "What Woman Want" was somehow topping the box office, (tripling "Dude, Where's My Car"! DUDE! WHAT? HOW?), Destiny's Child's "Independent Women Part 1" was the top song bumping on the radio, and Manny Ramirez signed a 8-year $160M dollar contract to play for Boston.
What a day that was! As a senior in high school outside of Boston, my car radio never left sports talk radio (Sorry, Beyonce!). December 19th was no different - Everyone was thrilled. In Cleveland, Manny punished baseball and opposing pitchers. He hit for average, hit for power, and if he kept up anything close to his numbers he'd be headed easily to the Hall of Fame. – And keep up those numbers is exactly what he did.
Coming to Boston, he was a fun loving, quirky guy who no one completely understood.
It seemed that Ramirez didn't understand how the world worked. I heard rumors that Manny tried to bring his Barber and the clubhouse attendant from Cleveland to Boston. While watching the OJ chase in the clubhouse, he thought it was teammate Chad Ogea in the car.
As his time went on in Boston, his quirkiness became just as much a part of his legacy as his bat. The quirks were fun-loving, having two sons named Manny jr, urinating in the green monster, cutting off a Johnny Damon throw while playing left field, and trying to sell his grill on eBay. Suddenly "Just Manny being Manny" was a catch phrase that even non-sports fans in Boston knew.
Just Manny being Manny. Not running out a double play – Just Manny Being Manny. Telling the manager he didn't want to play that night – Just Manny being Manny. Over time, Manny being Manny was starting to wear out his welcome. Many times he'd mentioned other teams that he'd want to play for, often the rival Yankees. But that didn't hurt his reputation. He was still a dominating hitter in the game.
Ramirez's 162 game average over 19 seasons was 39 home runs, 129 RBI, .312 AVG, .411 OBP, .585 SLG, .996 OPS. Manny made 12 All-Star teams, won 2 World series, won 9 silver sluggers, and won 2 Hank Aaron awards. And what he will be most remembered for in Boston, the 2004 World Series MVP, ending any curses.
The Red Sox ended the '03 season in game 7 of the ALCS seeing Aaron Boone hit a walk-off home run off Tim Wakefield. In that off-season the Red Sox parted ways with Grady Little. Grady had issues with Manny in '03. Manny told Grady that he couldn't play against the Yankees because he was sick, yet he was reportedly seen out with Yankee Enrique Wilson. Manny refused to pinch-hit. He also never showed up to his appointment with the doctor. Two days after the Red Sox said that Grady Little wouldn't be back, Manny was placed on irrevocable waivers. This meant that anyone could get Manny as long as they picked up the rest of his contract. Plenty of speculation had him headed to the Yankees, yet no team claimed him - Manny remained in Boston.
Manny remains in Boston
Imagine what would have happened to the Red Sox if someone had claimed him? However, it does appear that the move paid off. Maybe Manny was motivated for once, realizing that no team wanted him. Manny continued his great numbers in Boston, including two World Series victories. Ramirez and Ortiz formed one of the best 3-4 combinations in baseball history.
Manny often used the excuse of a grandmother dying as a reason to be late reporting. In '07 when the Red Sox visited the White House, Ortiz apologized for Manny's absence joking, "I'm sorry Manny Ramirez isn't here. I guess his grandmother died again. Just kidding. Tell Manny I didn't mean it."
In 2008 "Manny being Manny" started to unravel.
On June 5th, facing the Rays, Manny and Kevin Youkilis got caught on camera in an altercation and Manny was seen taking a swing at Youkilis, this was a couple innings after the benches cleared. Later in the year, while playing in Houston, Manny made a day game day request for 16 tickets to Red Sox traveling secretary Jack McCormick. McCormick told Manny that it was too large of a request. Manny pushed the 64 year old to the ground and told him to "Just do your job". This was the beginning of the end. In a final straw, after sitting out a game against the Seattle Mariners, Manny was in the lineup vs. the Yankees but informed a bench coach that he wasn't going to play due to a sore knee - The Red Sox ordered MRIs on both knees, no damage was shown. One game he was put in to pinch-hit and took three strikes right down the middle of the plate. Local writers and fans started to call for Ramirez to be traded - And traded he was.
Mannywood! Manny took LA by storm.
In August of '08 Manny brought his Hall of Fame legacy to the Dodgers with .415 (44-for-106, 7 doubles, 9 home runs, 25 RBI and 21 runs scored during the month. For the Dodgers that season he hit .396 with, 17 home runs, and 53 RBI. There was no doubt that Manny was a living legend – the type of player that people talk about for generations.
In 2009, "Mannywood" started to drop in population as Manny got suspended 50 games for banned substances. The substance was human chorionic gonadotropin (hCG), a women's fertility drug. The drug was often an agent used by steroid users to restart their body's testosterone production after a steroid cycle. There was also a New York Times report that Manny and Ortiz failed drug tests in prior seasons.
In 2010, Manny was a frequent visitor to the disabled list. By the time he finally returned Manny lost his starting job to Scott Podsednik. Manny pinch-hit and got thrown out after arguing the first pitch. Manny was placed on waivers and finished the season on the Chicago White Sox.
In 2011, Ramirez was reunited with Boston teammate Johnny Damon in Tampa after signing a 1-year $2M contract.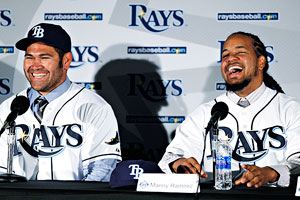 Manny played in 5 games, he had one hit, (.059 1-17) when he retired out of the blue. Manny was facing a 100-game suspension, after failing another drug test. If Manny ever returns to the game, he will have to face the suspension.
Yesterday a retired Ramirez was arrested in his South Florida home for reports of domestic abuse. Manny apparently slapped his wife during an argument and caused his wife to hit her head on their headboard. Her injuries were consistent with her story.
What is Manny's legacy now? Can we even joke about Manny being Manny? Once a fun-loving idiot savant, now just an idiot. How dumb can he be? Manny ruined his legacy by taking steroids twice. I can almost defend him getting caught once. I don't like to defend it, but once is a mistake, twice is a trend. Does anyone hold steroids against Andy Pettitte? He got caught once, apologized, and we didn't hear about his doing it again. Manny just doesn't care. Does he think he's too good to care about the rules? It's alright to take steroids, it's alright to hit people because he's Manny Ramirez?
In 5 years is Manny going to get voting into the Hall of Fame?
I find it hard to believe. He's not the player Barry Bonds is, and although Bonds had some bad moments in his life, his were never as bad as Manny. Bonds never actually failed a drug test, besides the eye test. Is Roger Clemens going to get in? If it were up to me, I'd vote them both in. Unfortunately it's not and a lot Hall of Fame voters are old-school traditionalists. Some voters don't vote for anyone on their first ballot, just so no one gets in unanimously. That's a joke. If every single person doesn't vote for a player like Ken Griffey jr. on his first ballot, they should not be allowed to vote. With Manny, I'd vote for him too. We're not voting on the personality, we're voting on the numbers. He's not invited to thanksgiving at the Lavery household but that doesn't mean, I want to forget his legacy. When it comes to steroids, we need to figure out a plan of how we will deal with steroid players in the hall. Maybe make a steroid wing, maybe put an asterisk on their plaque. Either way, Manny's once fun-loving demeanor is now looked at as a sports pariah.
By
Mike Lavery
Tuesday, 13 Sep 2011
Tagged:

Aaron Boone, Andy Pettitte, Barry Bonds, Boston Red Sox, Chad Ogea, Chicago White Sox, Cleveland Indians, David Ortiz, Enrique Wilson, Houston Astros, Johnny Damon, Ken Griffey, Ken Griffey, Jr., Kevin Youkilis, Los Angeles Dodgers, Manny Ramirez, New York Yankees, Roger Clemens, Scott Podsednik, Seattle Mariners, Tim Wakefield
Login
or
register
to post comments