Mike's Mailbag 9/16
The Baseball Page
Mike's Mailbag
Mike's Mailbag 9/16
Today we talk about Mo vs Wakefield, Orton vs Tebow, Sandoval vs cake, TV shows vs cancellation, Marlins vs tweeting, Entourage vs creative writing, Marco Scutaro vs flying bats, and Chargers vs swiss cheese.
If you'd like your email posted, email mikelavery@thebaseballpage.com
Bill, Norwell: What's more impressive 600 saves by Rivera or 200 wins by Wakefield?
I love Wakefield - His story is great. A player who couldn't make it as an infielder, reinvents himself to last in the league for over 20 years. It's great that he's done it with one pitch. However, I need to go with 600 saves. The reason being, only one other player has done it. Overall, the save stat is overrated but if you are going to have a closer, why not have Mo?
Matthew, CO: Orton or Tebow?
I've been sick of Tebow for years - He's overhyped. Orton is a solid QB who can lead a team. He won't burn the field down, but he has his games. His biggest flaw is under pressure when things break down - Those are Tebow's strengths. The only other thing Tebow has that Orton doesn't is a billboard.
Michelle, SF: Was the Pablo Sandoval cycle the slowest triple in the history of cycles?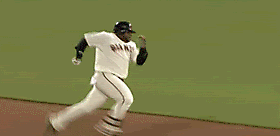 Probably not. I mean, George Kottaras had one this year and he couldn't be any faster. This question is the perfect time for me to post my favorite gif ever.
Mike: What TV shows are you looking forward to starting up?
"Always Sunny" started last night. I'm not huge into it, but it's funny. I missed last night's episode, but I'll find it. "Community" and "Parks and Recreation" are soon I think. I love those shows. I am going to see Donald Glover (Community) in concert in November if you're planning on stalking me. "How I Met Your Mother" starts again soon. I think that's going to be the last season. I swatched the premiere for "The New Girl". I love Zooey but this show seems sort of cliché, with added quirkiness. I'm looking forward to seeing "Up All Night".
Jason, FLA: Is Logan Morrison right in his grievance against the Marlins?
Not at all. There is an article about this. For those of you unaware, Morrison batted 3rd on August 13th and after the game was demoted. The demotion didn't last long and a lot of speculation was that it was about his active tweeting. The team claimed it was because of his .240 batting average. Logan is incorrect in this. Whether it's because the team doesn't like his tweeting or his average, he needs to be humbled and show that he learned his lesson. The Marlins are his employer, if they ask him not to tweet, he should honor their wishes.
Kayla, NY: What do you think about the Entourage ending?
I wasn't a fan. I never really watched Entourage until this season. I only watched it because I my roommates did. The whole season was made to set up a movie. Vince getting married made no sense - Last episode she reluctantly decided to go on a date with him, next day, they get married? And Ari gave Lloyd his first client, wasn't Johnny Drama already his first client? They just threw things together last minute to wrap things up - The wedding, the baby, the tequila company. This show had lazy writing, about douche characters that was filled with celebrity cameos.
Jason, FL: Did you see the broken bat hit last night for the Rays? Was that fair? What can be done?
I assume you're talking about Scutaro jumping out of the way of the bat and the ball got by? I mean really, what can you do? It wasn't really fair but unless they re-do the pitch (which I don't agree with) you don't have any option.
To wrap up the article: NFL Lock? Fantasy stud?
Take San Diego +7. I think the Patriots will win, but 7 points is a lot. I would also start Philip Rivers. Chad Henne looked like a pro-bowler against the Patriots, imagine what a good offense can do.
By
Mike Lavery
Friday, 16 Sep 2011
Related Content
This day in baseball history
May 04
1984

On May 4, 1984, Dave Kingman of the Oakland A's hits a bal ...

1982

On May 4, 1982, Jim Eisenreich leaves a game at Fenway Park ...

1981

On May 4, 1981, Ron Davis of the New York Yankees strikes ou ...
More Baseball History
Tagged:
Login
or
register
to post comments