MLB Costumes
Halloween will be here before you know it. If you want to go as your favorite MLB player, we are here to help.
If you're like me, you like baseball and you like to drink. Lucky for us, it's October, the month of playoff baseball and Halloween. I've never been one to spend money on costumes; so here are some great baseball costume ideas that won't cost you much money, especially if you have clothes representing MLB.
Giants hat.
Wear a long dark win.
Carry a baseball glove.
Smoke a joint.
If you're hardcore: Get contacts that make your eyes
bloodshot
.
Wear a Giants shirt.
Stuff your shirt with things to make you look buff.
Carry around syringes.
Act pompous.
If you're hardcore: Find a way to make your head look 8 sizes too big.
No matter what you do, no one will know who you are.
Let your hair get shaggy.
Hand out Peanut Butter Cups.
If you're hardcore: Explain to every single person at the party who Jordan Schafer is.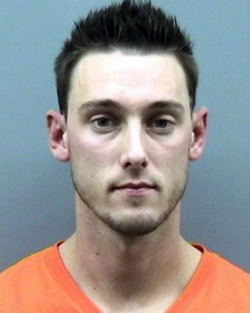 George Steinbrenner (from Seinfeld)
So this was my costume last year, and it's still relevant and super easy.
Glue them back to back on cardboard with a popsicle stick sticking out of the bottom.
When people ask what you are hold out the picture and have them look over your shoulder like the camera shot from Seinfeld.
If you're hardcore: Put makeup on your face and go as Zombie Steinbrenner.
(This picture is me from last year)
Get dreaded wig.
Dodgers Bandana.
Do a lot of two-handed points.
Carry a syringe - Don't worry about hiding it.
If you're late to the party just tell people that your 8th grandmother died.
Steroids Needle
(This isn't what I meant, but I'll take it)
Put on some sort of Yankee thing.
Cover every inch of your body in money.
Act like a D-Bag.
If you're hardcore: Carry around a centaur painting of yourself.
Wear a Tigers hat.
Drink more.
Drink some more.
Drink.
Apologize for drinking so much.
Drink.
Drink some more.
If you're hardcore: Drink more.
Wear a Marlins jacket.
Talk over everyone else.
Argue with every one.
Yelling is ok too.
Tweet mean things about everyone else at the party.
If you're hardcore: Make a fake twitter account for this, and learn everyone's twitter address so they will all know you are tweeting about them.
Wear a random baseball hat.
Cheat at every drinking game.
Call everyone else out on cheating.
If you're hardcore: Get in a boxing match out of nowhere.
Get new stem cells.
Take steroids.
Go to a party at a friends house that you haven't talk to in years.
Start off being the life of the party.
Over stay your welcome.
If you're hardcore: Gain a lot of weight.
Buy a penis costume.
Put a Yankee hat on it.
If you're hardcore: Date every hot chick at the party.
John Lackey (Very Similar to the ARod)
Carry around bags of money.
Act like an a-hole.
If you're hardcore: Blame your a-holeness on everyone else.
Wear a Red Sox hat.
Drink at inappropriate times.
If you're hardcore: Keep bringing up how great you were that one Halloween in 2003.
Make a really super awesome costume.
Don't spend a lot of money on it.
Have no one talk about it.
If you're hardcore: Find a store that actually sells Diamondback things.
Spend the most money on your costume.
Don't watch games.
Still talk trash.
If you're hardcore: Talk trash to someone who spent less on their costume.
West coast fan
Wear tons and tons of things supporting your love of the team.
Show up late to the party.
Leave early.
If you're hardcore: Name three players on the Dodgers.
Spend a lot of money on your costume.
Act like an underdog who can't afford nice things.
Buy expensive drinks.
If you're hardcore: Complain that the Yankee fan spent too much.
Tell everyone how your costume is going to be the best costume ever assembled.
Never show up to the party.
If you're hardcore: Show up really late. Be the life of the party. As soon as everyone notices how great you are leave.
Actually I've never seen one before - You'd have a better chance at seeing a leprechaun riding a unicorn.
Instead of spending money on a coustume, buy a ticket to a game for the first time
Prevent your team from getting retracted. Please!
If you're hardcore: Buy a ticket package.
Mark Cuban
Sit outside the party.
Keep asking the host if you're allowed in yet. The host keeps saying no because you're far too much fun and too exciting for the parry he has in mind.
If you're hardcore: Wear a Mavericks championship ring.
Bonus costume
LeBron James
Wear a Heat jersey.
Wear a headband.
Cry.
If you're hardcore: Recede your hairline.
By
Mike Lavery
Wednesday, 5 Oct 2011
Tagged:

Alex Rodriguez, Arizona Diamondbacks, Barry Bonds, Bartolo Colon, Boston Red Sox, Derek Jeter, Detroit Tigers, Florida Marlins, George Steinbrenner, Houston Astros, John Lackey, Jordan Schafer, Jose Guillen, Josh Beckett, Los Angeles Dodgers, Manny Ramirez, Miguel Cabrera, New York Yankees, Ozzie Guillen, Philadelphia Phillies, San Francisco Giants, Tim Lincecum
Login
or
register
to post comments