Shark Week
I'm not sure if you've had your eyes open this week, but if you have, you might have notice that it's Shark Week. Shark Week is a celebration of one of the planet's most fearless killers. Silently, they approach and get their target before the prey is aware they are even in danger.
This year's Shark Week got me thinking about who the "sharks" of Major League Baseball are, so to speak.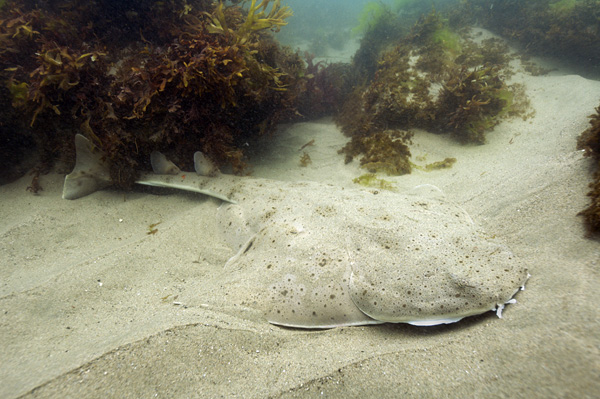 Angel Shark – James Shields.
An angel shark is sometimes confused for a ray because it's flat. So a Tampa Bay Ray would be an obvious choice here. Angel sharks are bottom feeders. Shields has a respectable ERA this year at 2.95 both those numbers can be deceiving. He did beat the Red Sox and Yankees each once, however, the rest of his wins are against Toronto (2), Houston, Florida (2), Cleveland, Baltimore, and the Chicago White Sox. All those teams besides the Indians (1 game over) are below .500.
Blue Shark – Jacoby Ellsbury
A Blue Shark is sleek, fast, and eats just about everything, while being considered extremely vicious. Jacoby is sleek; last night at the bar all the girls were saying how cute he is - He's fast, 31 stolen bases so far this year. Ellsbury already has a 70-steal year, and a 50-steal year in his career. In the field, everything around him gets eaten up, showing his range in centerfield. Dangerous? He could be the AL MVP this year. He's scored 82 and driven in 65, .317 batting average, .373 OBP. Tuesday night he had his first walk-off hit, and Wednesday, the next night; he hit his first walk-off home run, two walk-offs in two nights.
Goblin Shark – Ichiro Suzuki
Before being found off the coast of Japan, the goblin shark was believed to have been extinct for 100 million years. The shark is very uncommon and lives in deepest depths of the ocean. When we look at baseball, who's in deeper water this year than the declining star of the Mariners? Ichiro is one of a kind. To name a small fraction of his achievements, for the past 10 years he's played at least 146 games, gotten over 200 hits, and over 25 stolen bases every season. He's scored 100 runs in each of his first 8 years. All 10 seasons that he's been in the majors he made an All-Star team, and won the gold glove, plus 3 Silver Slugger Awards – Ichiro is also a 2 time Batting Championship, 2001 AL MVP, 2001 AL Rookie of the year, and 2001 AL Stolen Base Champion. His trophy case also holds the 2005 Commissioner's Historic Achievement Award and the 2007 All-Star Game MVP. Let's not forget the MLB record for hits in a season, 262, which he got in 2004 and has the AL record for consecutive stolen bases with 45. One of a kind.
Great White Shark – Adrian Gonzalez
This is the most feared shark in the world. Attacks more people than any other shark. There were a lot of people I considered for this shark, but I feel that Adrian Gonzalez is the most feared hitter today. Even playing in San Diego in a bad lineup in a bad hitters park Adrian put up All-Star numbers. Since coming to the Red Sox, in that lineup, with that ballpark, he might be Ellsbury's biggest competition for MVP. At this exact moment Adrian is batting .356, the best in baseball, Reyes is second in the league with .339. He leads all of baseball in RBI with 90. With 158 hits and 252 total bases, he leads baseball in those categories too. Unfortunately at this point Adrian only has 18 home runs, Batista is leading with 33. So a triple crown seems unlikely.
Hammerhead Shark – Pablo Sandoval
Hammerhead sharks are unlikely to attack people, but they are feared do to their size and predatory nature. I love Kung Fu Panda, but the last two years his bat has not lived up to his… size. People don't fear Sandoval. Right now he's the #3 hitter for the defending world champs. He's hitting a respectable .309, but his power numbers aren't threatening. 11 home runs and 40 RBI, granted he missed some time, but last year he had 13 and 63. Sandoval, like the hammerhead, needs to prove that he's a predator before he starts to get feared.
Mako Shark – Jose Reyes
Mako sharks are the fastest shark in the world. They reach speeds up to 43 mph. Although missing more than a couple weeks, Reyes still has 32 stolen bases, 8 behind Michael Bourn. Reyes also has 142 hits, 16 of which are triples which leads baseball.
Nurse Shark – Josh Hamilton
Although Nurse sharks are bottom feeders, they are also nocturnal. They sleep all day and hunt at night. While Josh Hamilton has .359 in 53 night games with 13 home runs and 55 RBI, in 21 day games he's hitting .153 with zero home runs and 4 RBI. If he played all his games at night, he might be an MVP once again.
Tiger Shark – Miguel Cabrera
Second most likely to attack people and they will literally eat anything. Tiger sharks have been found with all sorts of trinkets in their stomachs. I have to stick with the tiger theme here obviously. If anyone leaves anything on the plate, Cabrera will destroy it. I'm talking both in the game, and at the post game buffet. Right now he's hitting .314 with 22 home runs and 69 RBI. These numbers are a little lower than his recent seasons, but there is nothing stopping him from going on a tear and reaching his mid 30 home run form.
Whale Shark – Bartolo Colon
Whale sharks are the biggest shark and the biggest fish in the world. They grow to 45 feet and 30,000 pounds. I had to get a pitcher on here and I also had to take a shot at the Yankees while I was at it. But in all seriousness, he's put up good numbers this year (8-6 3.30), after some sketchy medical attention. Since coming back from his injury, he hasn't been the same. So maybe he's not a shark after all, he's just a whale.
Now remember, if you go to a game to watch one of these sharks, be attentive because an attack can happen at any moment. And if you go to the beach, don't wear your lady gaga meat suit.
By
Mike Lavery
Friday, 5 Aug 2011
This day in baseball history
August 31
1992

On August 31, 1992, the Oakland A's and Texas Rangers anno ...

1990

Ken Griffey Jr. and Ken Griffey Sr. become the first father ...

1990

the Houston Astros complete one of franchise's best trades e ...
More Baseball History
Tagged:
Login
or
register
to post comments