Tommy's Greatest Hits
Life long Dodger Tommy Lasorda celebrates his birthday
One of Baseball's greatest managers and characters of the game celebrates his birthday today, life long Dodger Tommy Lasorda. We tracked down some of his greatest hits so to speak and included a link to the file to listen.
I found this on dodgerblues you can also read his biography and various other stories about his baseball legacy, Tommy's Page.
Lasorda removes Doug Rau in '77 World Series October 15, 1977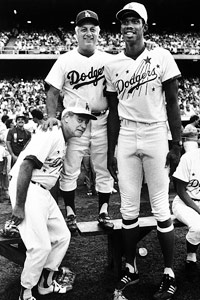 Doug Rau was the Dodger starter in Game 4 of the 1977 World Series. After the Yankees got three consecutive hits off of Rau in the third inning, Tommy Lasorda went to the mound to pull him. What followed was a classic exchange. The Yankees ended up scoring three times in the third inning, but the Dodgers came up with two of their own in the third when Davey Lopes blasted a Ron Guidry pitch over the center-field fence. Reggie Jackson hit a solo shot in the sixth, and that's how it ended: Yankees 4, Dodgers 2. But the game produced this:
Dave Kingman 3 Homerun Game
June 4, 1976 Homerun Game
This one never gets old. After a game in which Dave Kingman (visit his page for many great nuggets) hit three home runs to beat the Dodgers (the first of two 3-HR games that Kingman would have against the Dodgers), Tommy Lasorda was asked by reporter Paul Olden what he thought of Kingman's performance. The rest is history:
Reporter: Can you give us just a few basic comments about your feelings on the game?

Lasorda: Well, naturally I feel bad about losing a ball game like that, there's no way you should lose that ball game. An', it, uh, just doesn't make sense.

R: What's your opinion of Kingman's performance?

TL: What's my opinion of Kingman's performance!? What the BLEEP do you think is my opinion of it? I think it was BLEEPING BLEEP. Put that in, I don't BLEEP. Opinion of his performance!!? BLEEP, he beat us with three BLEEPING home runs! What the BLEEP do you mean, "What is my opinion of his performance?" How could you ask me a question like that, "What is my opinion of his performance?" BLEEP, he hit three home runs! BLEEP. I'm BLEEPING pissed off to lose that BLEEPING game. And you ask me my opinion of his performance! BLEEP. That's a tough question to ask me, isn't it? "What is my opinion of his performance?"

R: Yes, it is. I asked it, and you gave me an answer...

TL: Well, I didn't give you a good answer because I'm mad, but I mean...

R: Well, is wasn't a good question...

TL: That's a tough question to ask me right now, "What is my opinion of his performance." I mean, you want me to tell you what my opinion of his performance is...

R: You just did...

TL: That's right. BLEEP. Guy hits three home runs against us. BLEEP.
Rick Sutcliffe destroys Lasorda's office
October 1981
Rick Sutcliffe was the NL Rookie of the Year in 1979, but that didn't mean Tommy Lasorda liked him. In fact, it was widely known that Lasorda and Sutcliffe got along poorly. After Lasorda left Sutcliffe off the Dodgers' 1981 postseason roster, Sutcliffe burst into Lasorda's office, overturned his desk and smashed chairs. "There was a lot of booming and banging going on in Tommy's office, chairs getting busted up and all," recalled Dusty Baker, a Dodger outfielder at the time. Within a couple months, Sutcliffe was a Cleveland Indian.
Kurt Bevacqua Trade
According to some, it all began when Tom Niedenfuer was fined $500 for hitting a San Diego batter. Outfielder Kurt Bevacqua told the press: "They ought to fine that fat little Italian, too. He ordered it." Soon Lasorda was asked his opinion of Bevacqua. The rest is history.
TL: BLEEPING Bevacqua, who couldn't hit water if he fell out a BLEEPING boat.

TL: And I guaran-BLEEPING-tee you this, when I pitched and I was gonna pitch against a BLEEPING team that had guys on it like Bevacqua, I'd send a BLEEPING limosine to get the BLEEPER to make sure he was in the motherBLEEPING lineup because I'd kick that BLEEPER's ass any BLEEPING day of the week. He's a BLEEPING motherBLEEPING bigmouth, I'll tell you that.
By
The Baseball Page
Thursday, 22 Sep 2011
Tagged:
Login
or
register
to post comments