Trade Deadline Winners and Losers
The Stones famously said, "You can't always get what you want. But if you try sometimes, you might find, you get what you need". And with the trade deadline, only a couple teams actually get what they wanted but how many teams got what they needed?
Winners
Giants - The last time the Astros were relevant at the trade deadline, they brought in a guy named Carlos Beltran, that was seven years ago. Beltran went on to hit 8 Home Run and drove in 16 RBi in that post season. This year Beltran was moved again, this time to the Giants. They got exactly what they wanted, a bat in the outfield. Beltran is instantly the best bat in the Giants weak lineup.
The Giants also fixed their injured middle infield. After losing both Freddy Sanchez and Tejada the Giants needed someone. They brought in both Keppinger and Orlando Cabrera. What do 2004, 2005, 2007, 2008, 2009, and 2010 have in common? Those are all years that Orlando Cabrera went to the playoffs.
Phillies - The Phillies had two weaknesses, the bullpen and right field. Pence is 28, and under team control for a coupe of years. He will fit nicely into the middle of the already potent Phillies lineup. The Phillies can still find a reliever through the waivers wire.
Me – Although True Blood had one if it's worst episodes ever, Deborah Ann Woll's cleavage is becoming a prominent character.
Braves – "All we need is just a little patience" The Braves didn't want to pay big for an outfielder but the need was clearly there. The Braves were patient and brought in Michael Bourn. Bourn will instantly slide into the lead of spot in the Braves lineup. The Braves already have amazing pitching, bringing in a run creator like Bourn will help the Braves keep up with the other big moves in NL.
Pirates – The Pirates should be winners just for being buyers. They improved some of their needs, 1B and OF. Lee is an everyday starter at 1B, and Ludwick will probably platoon with Diaz. The left side of their infield still needs some work. If the Pirates stay in the hunt, look for them to be active through waivers.
Blue Jays – Not in the hunt but bringing in Rasmus was a great move in my opinion. They have essentially set up their lineup for years to come. Sooner or later they will bring up Lawrie and we will see their powerful lineup of the future.
Shark Week – No comment needed.
Indians – I believe that Ubaldo Jiminez is overrated. Besides the NL being easier on pitchers, Ubaldo's value is all based on one amazing half year. However, he could be the best pitcher on the Indians and lead them into the playoffs. They also brought in Fukudome. The lineup isn't getting much production from many batters besides Cabrera and Santana; Fukudome will at least get on base.
Mariners – Getting Trayvon Robinson & Francisco Martinez for pitchers with expiring deals was a good move. They will be in the lineup for years to come. They also picked up Furbush, who other teams were after.
Skyler White – A terrible character who is finally showing some promise.
Rangers – They greatly improved their bullpen. Mike Adams & Uehara are both top bullpen arms. Nick Green adds some depth if he stays on the roster.
Eagles – Vegas here I come, I've got some business for you regarding the Super Bowl. I like Young better than Kolb and they got a lot for Kolb and got Young for nothing.
Mets – The fact that the Mets got Zack Wheeler for Beltran is amazing. He's considered the Giants top pitching prospect and one of the best prospects in the game.
Josh Reddick – The Red Sox outfielder appears to be keeping his job, and has a chance to keep it since the Red Sox didn't bring in an outfielder.
The girls I went to the Sox game with last week - They were talking about how attractive they think Reddick is. So they will get to keep watching him.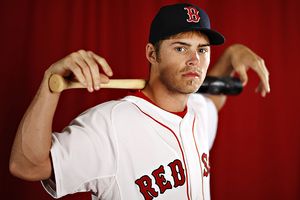 (This pose looks so natural...)
Nationals – Getting, Zack Walters, a young shortstop for Jason Marquis was a good deal.
Diamondbacks – In the same deal with the Nationals, they should have given up less for Marquis but they got him, Ziegler, and Langerhans to fill some holes.
Brewers – Got K-Rod early to stay away from a bidding war. They also brought in Hairston and Lopez to add depth.
Tigers – Having to stay ahead of Cleveland, Fister adds a good starter and Pauley will strengthen up the pen. Betemit is a good bat and an upgrade at 3B.
Red Sox – They were going to be losers. I wanted them to keep Federowicz, and stay far from Bedard. This morning I learned that Buchholz could be out for the year, so I guess Bedard is worth the risk.
Losers
"I can't get no satisfaction"
Orioles – The got a 23 year old 1B in A ball for Lee. They got Chris Davis and Tommy Hunter for Uehara. Hunter can fit into the end of a rotation so they at least got something. With Davis playing 1B and Reynolds at 3B, the Orioles could have 2 players strike out 200 times next year. The AL record is currently 197 Ks.
Nnamdi Asomugha – I heard you were going to get $20 mil a year? You ended up with 12. At least you didn't go to the Jets and you have those friendly Philly fans that will love you even when you get burnt for a TD.
(Santa beware)
Domonic Brown - The outfielder that the Phillies didn't want to give up got sent down to spend the rest of the year in the minors.
Astros – They traded two of their better hitters and only got Singleton, and Cosart to show for it. Neither will be up for a while either. Oberholtzer and Clemens are wild cards, maybe one will work out.
Yankees – To quote Bart Simpson when reading "The Raven", "You know what would have been scarier than nothing? ANYTHING!" Their rotation is not scary.
(Yankees the favorite nevermore)
Rays – It's time to sell. They have players who could have gotten them a lot. If they want to stay competitive year after year, they need to know when to wave the white flag.
Me – For even watching True Blood
Hiroki Kuroda – He didn't want to wave his no trade clause so he could stay with a losing team that probably won't be able to pay him.
Bill Compton – Why does he still exist?
Athletics – They should have traded away their whole bullpen and loaded up for the future. They traded one reliever away for marginal pieces.
Ubaldo Jiminez – I have a feeling that coming over to the AL will greatly hurt his value.
Jesse Pinkman – What has happened to your life? It's like a glimpse into what Josh Hamilton did during his time away of the game.
By
Mike Lavery
Monday, 1 Aug 2011
Tagged:

Arizona Diamondbacks, Asdrubal Cabrera, Atlanta Braves, Baltimore Orioles, Boston Red Sox, Brad Ziegler, Brett Lawrie, Brett Oberholtzer, Carlos Beltran, Carlos Santana, Chris Davis, Clay Buchholz, Cleveland Indians, Colby Rasmus, David Pauley, Derrick Lee, Detroit Tigers, Domonic Brown, Doug Fister, Erik Bedard, Felipe Lopez, Francisco Rodriguez, Freddy Sanchez, Hiroki Kuroda, Houston Astros, Hunter Pence, Jarred Cosart, Jason Marquis, Jeff Keppinger, Jerry Hairston, Jesse Pinkman, Jonathan Singleton, Josh Reddick, Koji Uehara, Kosuke Fukudome, Mark Reynolds, Michael Bourn, Miguel Tejada, Mike Adams, Milwaukee Brewers, New York Yankees, Nick Green, Nnamdi Asomugha, Oakland Athletics, Orlando Cabrera, Paul Clemens, Philadelphia Eagles, Philadelphia Phillies, Pittsburgh Pirates, Ryan Langerhans, Ryan Ludwick, San Francisco Giants, Skyler White, Tampa Bay Rays, Texas Rangers, The Simpsons, Tim Federowicz, Tommy Hunter, Toronto Blue Jays, Ubaldo Jimenez, Washington Nationals, Wilson Betemit, Zack Walters
Login
or
register
to post comments