Joe Girardi
Wiki
Joe Girardi
Position(s):

C, DH
Born:

October 14, 1964
Bats:

Right
Throws:

Right
Height:

5' 11"
Weight:

195 lbs
Major League Debut:

4-04-1989 with CHN
Allstar Selections:

2006 Mgr
Joseph Elliott Girardi (born October 14, 1964) is a former Major League Baseball catcher and current manager of the New York Yankees. During a 15-year playing career, he played from 1989-2003 for the Chicago Cubs, the Colorado Rockies, the New York Yankees, and St. Louis Cardinals. He also previously managed the Florida Marlins in 2006, where he was named National League Manager of the Year.
Biography
Early life
Girardi, an Italian-American, was born in Peoria, Illinois, and is a native of East Peoria, Illinois,[1] he attended East Peoria Central Junior High School. He then attended Academy of Our Lady/Spalding Institute (now merged into Peoria Notre Dame High School) in Peoria, Illinois, where he played quarterback for the football team (coached by Tommy Kahn) and catcher for the baseball team (coached by David Lang). He went on to play baseball at Northwestern University in Evanston, Illinois, where he earned a bachelor of science degree in industrial engineering. He was the first freshman to be elected president of a fraternity (Alpha Tau Omega) at Northwestern.
Playing Career
In 1989, while a prospect for the Chicago Cubs, Girardi played for the Águilas del Zulia in the Venezuelan winter league.[2] He began his major league career in 1989 with the Cubs, staying with them through 1992. He was taken by the Colorado Rockies in the expansion draft before the 1993 season. Girardi played for the Rockies through 1995. He was traded in 1995 to the New York Yankees for pitcher Mike DeJean.

Girardi served as the Yankees' regular catcher from 1996 through 1999, earning three World Series rings in 1996, 1998, and 1999. In 1996, Girardi caught Dwight Gooden's no-hitter and in 1999, he caught David Cone's perfect game. When the Yankees promoted Jorge Posada, a 25-year-old prospect, to serve as his backup, Girardi served as Posada's mentor.[3] The two catchers split time for the Yankees through 1999.

In 2000, Girardi left the Yankees and returned to the Cubs, where he was named to that year's All-Star team, his only All-Star appearance as a player (he would later manage the 2010 AL All-Star team). He played with the Cubs again in 2001 and 2002. On June 22, 2002, before the Cubs' game with the Cardinals, St. Louis' Darryl Kile was found dead. When Major League Baseball decided to cancel the nationally televised game, Girardi announced the cancellation to the fans at Wrigley Field without directly mentioning Kile's death. At 2:37 p.m., he tearfully told the fans, "I thank you for your patience. We regret to inform you because of a tragedy in the Cardinal family, the commissioner has canceled the game today. Please be respectful. You will find out eventually what has happened, and I ask that you say a prayer for the St. Louis Cardinals' family."

In 2003, Girardi played for the Cardinals.
Broadcasting and Coaching Career
After a spring training stint with the Yankees in 2004, Girardi retired and became a commentator for the YES Network. He hosted the youth-oriented Yankees on Deck, received good reviews, and was offered a larger role on 2005 Yankee broadcasts.

But he rejected that offer, as well as an offer by Florida Marlins to become the bench coach with a guarantee to become the team's manager in 2006 (he eventually got that job anyway). Instead, he became the Yankees' bench coach. He managed a game during a Joe Torre suspension, a loss to the Kansas City Royals. Girardi remained the host of Kids on Deck in 2005, having shot his shows before spring training. During games, YES promoted Kids on Deck by showing Girardi sitting in the dugout during breaks in the game.

Girardi worked Games 3–5 of the 2006 World Series for Fox as part of the network's pregame and postgame team, along with host Jeanne Zelasko and regular analyst Kevin Kennedy.

After fielding managerial offers for the 2007 season, Joe Girardi instead came to terms with the YES network to return to the broadcast booth for 60-plus games as a Yankees analyst, and co-host a new show on the network, Behind The Plate, with John Flaherty, also a former Yankee catcher.[4] Girardi also served as color commentator for the No.2 booth (usually with Thom Brennaman) on Major League Baseball on Fox.
Managerial Career
Florida Marlins (2006)
After the 2005 regular season, Girardi was named the manager of the Marlins, replacing departed manager Jack McKeon. His first notable action as manager was to prohibit facial hair, a policy similar to that of Yankees owner George Steinbrenner, except Girardi prohibited mustaches as well.[5]

Girardi guided the team into a 78–84 record and a surprising wild-card contention even though the team had the lowest payroll in Major League Baseball.[6] About $14 million, the Marlins' 2006 payroll was lower than the salaries of several MLB players. But Girardi was nearly fired in early August when he got into a vocal (and visible) argument with Marlins owner Jeffrey Loria during a game. According to witnesses and video footage, the Marlins owner was heckling homeplate umpire Larry Vanover. When the umpire warned Girardi about the harassment, Girardi and his bench coach Gary Tuck then turned to Loria and told him to stop. Loria had to be talked out of firing Girardi immediately after the game.[7]

On October 3, 2006, the Marlins announced that they had fired Girardi, despite him winning manager of the year. Girardi said only that he appreciated the opportunity to manage the club, a move that was seen as classy across the Major Leagues and kept him at the top of many teams' list of manager candidates. Girardi was thought to be among the leading candidates to replace Yankee manager Joe Torre after the Yankees' loss in the 2006 American League Division Series, but Torre remained with the Yankees. He was also a candidate for the Cubs' manager position, to succeed Dusty Baker; he interviewed for the job just days after leaving the Marlins. With his playing experience in Chicago, he was considered a front-runner for the position even before the season was over.[8] However, the Cubs chose to go with veteran manager Lou Piniella. Girardi took himself out of the running for the Washington Nationals' managerial job shortly thereafter and returned to the broadcast booth for the YES Network in 2007. He said taking another managerial job would have meant a third move in as many years for his family.[citation needed] Despite Girardi's firing, he was rewarded for his achievements with the Marlins in 2006 with the National League Manager of the Year Award and The Sporting News Manager of the Year Award for the National League.
New York Yankees (2008-present)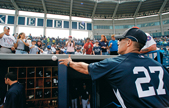 In June 2007, after the Baltimore Orioles fired manager Sam Perlozzo, Girardi interviewed for and was offered the job, but turned it down, his agent said on June 21.

When the Yankees' managerial position became vacant after the 2007 season, the Yankees interviewed Girardi, Tony Peña, and Don Mattingly. Girardi was reported to be the Yankees' managerial choice on October 29,[9] and he officially accepted the deal on October 30. He signed a three-year contract, reportedly worth about $7.5 million.[10]

Girardi chose to wear No. 27 to signify his wish to lead the Yankees to their 27th world championship.[11] On April 1, 2008, Girardi won his first game as manager of the Yankees, defeating the Toronto Blue Jays 3–2. On August 2, 2008, Girardi participated in his first Old Timer's Day, the last such game played at the original Yankee Stadium. Girardi participated in the next Old Timer's Day, on July 19, 2009, the first in the new Yankee Stadium.

Girardi's first year as Yankee manager was the first time since 1993 the Yankees did not reach the postseason (the 1994 season-ending strike came with the Yankees in first place in the AL East.) In 2009, his second year as manager, he led the Yankees to win their 40th AL pennant, leading to their 27th World Series title (defeating the Philadelphia Phillies), his first World Series title as manager, and the Yankees' first since 2000. Before the 2010 season, Girardi changed his number to 28. Newly acquired center-fielder Curtis Granderson had worn 28, but agreed to change his number to 14.[12]

Following the 2010 season, Girardi and the Yankees agreed to a three-year deal to keep Girardi as the Yankees' manager.[13]
Personal Life
Girardi is married to Kimberly Girardi, and has three children, Serena, Dante, and Lena. He lives in Purchase, New York. Girardi is the son of Jerry and Angela Girardi, both from Illinois.[14] Girardi is of Italian descent and is a devout Christian.[15]

While driving home after winning the 2009 World Series, Girardi stopped to help a crash victim on a dangerous part of the highway. Police said he put his life at risk while trying to help the driver who had just crashed into a wall. The woman said she had no idea who Girardi was until the responding officers pointed it out. In an interview the next day, he said, "I think the most important thing is that, obviously, there's a lot of joy in what we do, but we can't forget to be human beings when we help others out."[16][17]

Girardi is also a known health enthusiast and has banned sweets such as ice cream and soda from the clubhouse.[18]
References
1. Ronald, Bum (2007-10-30). "Girardi snags job offer". Peoria Journal Star (The Peoria Journal Star, Inc.): p. A1. "Girardi, an East Peoria native who played for the Peoria Chiefs, was the 2006 National League Manager of the Year with Florida, plus he has a pin-striped pedigree."
2. John Homez (April 4, 2008). "De Maracaibo salieron". Chevere news. http://www.cheverenews.com/news.php?nid=333. Retrieved October 29, 2009.
3. Jack Curry (March 27, 1997). "Girardi Gets Turn to Play Big Brother". New York Times. http://www.nytimes.com/1997/03/27/sports/girardi-gets-turn-to-play-big-brother.html. Retrieved August 19, 2009.
4. ESPN - Girardi returning to Yankees broadcast booth - MLB
5. Frisaro, Joe (January 27, 2006). "Girardi sets clean-shave policy". MLB.com. Major League Baseball. http://mlb.mlb.com/news/article.jsp?ymd=20060127&content_id=1301754&fext=.jsp&c_id=m%2520lb. Retrieved July 18, 2011.
6. Hardball Dollars
7. "SI.com - Zero hour - Sep 25, 2006". CNN. September 25, 2006. http://sportsillustrated.cnn.com/2006/writers/jon_heyman/09/25/scoop.monday/. Retrieved May 6, 2010.
8. Sullivan, Paul; Van Dyck, Dave (October 4, 2006). "Will Cubs Play Release and Catch?". Los Angeles Times. http://www.latimes.com/sports/cs-061003cubssearch,1,3465327.story.
9. ESPN - Source: Girardi expected to accept Yankees' offer - MLB
10. ESPN - Girardi agrees to 3-year deal to manage Yankees - MLB
11. "Girardi lands in Bronx, explains significance of No. 27". ESPN.com. Associated Press. November 2, 2007. http://sports.espn.go.com/mlb/news/story?id=3085167.
12. Nightengale, Bob (2009-11-05). "Title puts Yankees in 27th heaven, win Series in six". USA Today. http://www.usatoday.com/sports/baseball/playoffs/2009-11-04-world-series-game-6_N.htm. Retrieved 2009-11-05.
13. http://newyork.yankees.mlb.com/news/article.jsp?ymd=20101029&content_id=15901932&vkey=news_nyy&c_id=nyy
14. [1] North Jersey
15. Players' prayers Worldmag.com
16. Yanks manager Girardi discusses Eastchester traffic-crash stop on WFAN LoHud.com
17. "Girardi stops to help after Series win". ESPN. http://sports.espn.go.com/mlb/playoffs/2009/news/story?id=4625899. Retrieved 2009-11-05.
18. Tyler Kepner (June 17, 2008). "Win Games, Eat Ice Cream". The New York Times. http://bats.blogs.nytimes.com/2008/06/17/win-games-eat-ice-cream/. Retrieved July 18, 2010.
Tagged: